Our luxury tents are visually attractive and an ideal way of entertaining. They add an aesthetically enchanting sophistication, transforming the familiar into something completely unique yet wonderful, conjuring up a fairy tale atmosphere, that inspires conversation, among your guests setting the stage to create vivid and everlasting memories.
We offer a range of luxury canvas Raj Tents that add a backdrop to make your special event truly elegant, showing off a beautiful garden or embellishing a hotel ballroom to impress…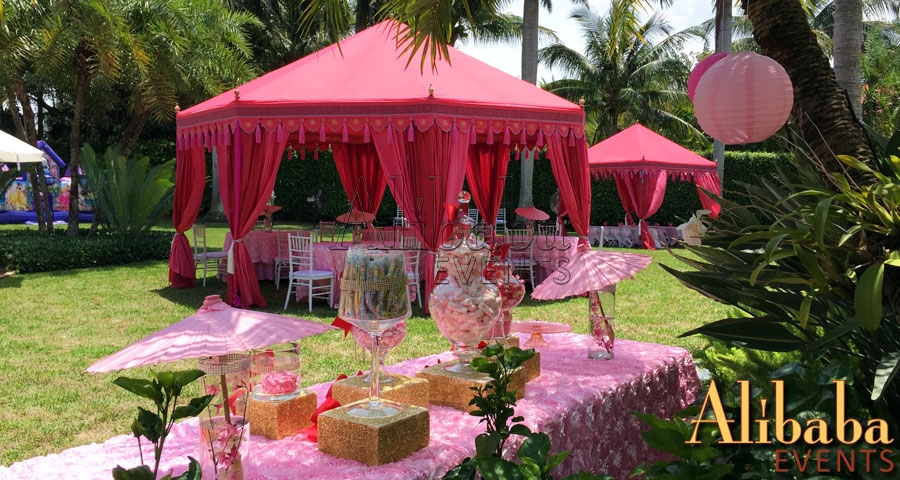 Available in a wide array of colors, designs, embellishments, and details to charm and inspire you and leave your guests full of wonder. We have several sizes available that should fit the most demanding of environments:
– Pergola Bollywood Raj Tents: 10'x 10′
– Grand Pergola Bollywood Raj Tents: 13'x 13′
– Pavilion Bollywood Raj Tents: 13'x 13″
– Grand Pavilion Bollywood Raj Tents: 20'x 20′
To compliment the tents, we have a wide range for furnishings, cushions, props, lighting, and accessories available. Click for details…
Our Bollywood style Raj Tents (Raj = King or Royal) originate from the state of Rajasthan, India. All of our Raj tents are handmade using natural fibers and employing age old techniques by local artisans, including block printing, dyeing, tassel making, embroidery, mirror work, weaving and much more.